usic for the ind

"World Music is the

relocation of culture"

~Martin D. Roberts
The soul of music meets the spirit of culture. The following short essays offer an introduction to the relationship between politics and music. They also provide students with examples of article topics which could be created for the Byte Gallery:
Political Compositions
Contemporary Political Lyrics
Links
How Can Music be Political?
-its internal characteristics
-its external contextual factors
-the ways users incorporate it into their lives
Political music is written to stir our emotions and motivate us to action. In their lyrical way, music can often be a call to action, striving to generate support and cast doubt on the opposition. Many musicians and composers are also social activists, reflecting upon their music as social commentary which expresses their political and social views. Musicians are becoming more empowered and are speaking via their songs about the environment, human rights, political change, their love of or despair about humanity. They seek to reveal the underlying soul of the musical message. Examples of musicians who have spoken out or continue to speak out and act on issues of global importance include the following:

--Canadian composer John Kim Bell, established a fund to assist aspiring Aboriginal artists
--The music of Canadian singer-songwriter Bruce Cockburn focuses on political and environmental issues
--Canadian children's singer-songwriter Raffi is passionate about the environment, a love and concern which is reflected in his music
--Bob Geldof, mounted a massive fundraising effort of unprecedented scope through his "Feed The World" and Band Aid/Live Aid projects
--Rock musician Sting, who has worked to aid in the preservation of the world's rainforests --Brenda Baker is a Saskatchewan musician and social activist
--Robbie Robertson, Canadian-born former member of the rock group The Band, produced a compilation album of Aboriginal recording artists entitled Music for Native Americans
--Kashtin sings in their native tongue
--Willie Nelson raised funds and support for American farmers through his "Farm Aid" concerts and projects
There are many other musicians who work actively to raise political issues.
Dissidence and Music
Perhaps no other country in the world has used music so effectively as a means to communicate dissent than South Africa, where music has served as a powerful vehicle of protest against racial injustice.
Blacks demonstrated their resistance to apartheid with protests and civil disobedience and through artistic expression. Songs, dances, plays and other art works proved to be an effective means of exposing cruelty. In South Africa today, culture and politics can no longer be separated. Of all these artistic expressions, music has played the most pivotal role. South African musicians became the most outspoken critics of the system, chroniclers of the people's suffering, and uncompromising fighters for a new, democratic, and nonracial nation.
South African music has established a worldwide reputation because of its powerful message, its vast array of styles, and its excellent creators and performers. Its effectiveness caused the Pretoria government to force musical artists into exile and to make it illegal for their music to be aired on radio or even to be listened to privately. Miriam Makeba, Hugh Masekela, Jonas Gwangwa, and Julian Bahula are just a few of the many internationally acclaimed artists who were exiled. Their efforts succeeded in reducing censorship.
Globalization and Music
The evolution of global communication systems has enabled world music to influence the development of Western popular music, and has also allowed 'internationally acclaimed' popular music to influence the musical preferences of much of the world's population.
The sharing of musical ideas across cultures happens in many ways as composers incorporate ideas from many sources. Producing songs in one's native language is politically and culturally important. In a 13 February 1995 article in Maclean's magazine it is noted that "ten years ago anyone singing in a native language couldn't get played except at midnight on a `roots' station." The interconnectivity of the world, suggests new methods for the appreciation and creation of music. Listeners combine and view music in a globalized, externalized dimension; a generation of interpretation has been globalized within the mind itself.
Ideas for the Byte Gallery:
Leadership, Alliances, Victories and Catastrophes reflected in music
Examples from 1400 - 1625 include:
Madrigals by Machiavelli
Schultz's commemoration of the Assembly of Electors of Saxony
Polish lament on the capture of Hungary by the Turks
Josquin's praise of Louis XII
Celebration of Spain's defeat of the Moors in 1492
Isaac's dirge on the death of Lorenzo de' Medici
Political Compositions

To Anacreon in Heaven, John Stafford Smith (1750-1836)
This popular tune of the 18th century was the official song of the Anacreontic Society of London, which met at the Crown and Anchor Tavern. Each of the six original stanzas end with the text, "And besides, I'll instruct ye, like me, to intwine/ The myrtle of Venus with Bacchus's vine." Although the original song had no political connotations whatsoever, a later and more politically significant version is the familiar version of today.

O Dolce Nocte, Music: Phillipe Verdelot (d. c. 1540)
Niccolo Machiavelli (1469 - 1527), Italian statesman and writer, founded the science of political theory with his famous treatise, "The Prince." Less known today is his skill as a playwright. This song was composed for act five of his notable comedy, "La Mandragola," a study of stupidity and baseness. It was composed by Machiavelli's collaborator, Verdelot, the "father of the madrigal" and the most famous composer in Florence at the time.

Vive le Roy!, Josquin des Prez (c. 1445 - 1521)
As the most famous composer of his day, Josquin had many royal patrons, the last of which was King Louis XII of France. This fanfare, composed for Louis XII, is a "riddle piece," in which the music for three (of four) parts is identical, but shifted in time and pitch, while the notes of the remaining part correspond to vowels in the title of the piece

Mielic Bogaci Wegrowie, Anonymous (c. 1558)
The empathetic text of the Polish song from the Zamosc Song Book laments the sad captivity of Hungary during the period of conquest by the Turks.

People Get Ready, Curtis Mayfield. "The Anthology"
Fight the Power, Public Enemy. "Fear of a Black Planet"
When Will We Be Paid, Staple Singers. "We'll Get Over"
Say it Loud, James Brown. "The Hardest Working Man in Show Business"
Raise Voices: Political Music Groups
Campaign Against Arms Trade
Campaign for Nuclear Disarmament
Dutch Foundation for Political Music
The Political Economy of Music
Reclaim the Streets

International Lyrics Server
Roots World: The online magazine of world roots and folk.
Oneworld: Routes in Rhythm
ImprovisAsiOns Online!
Classical Net - A definitive classical music site.
Classics World
World Music Organization
Addicted to Noise
International Campaign for Tibet
Get Up Stand Up
Stan Rogers
The Activist Page
Native American Recources
Solidarity Group Political Prisoners
World Artists for Tibet
The Blue Flame Cafe - Encyclopedia of the great blues singers
Jazz Central Station
Wild About Music
Musicology sites
Genres and Types of Music
The Gregorian Chant Homepage
Sharps & Flats: World Music
ImprovisAsiOns Online!: The Newsletter of Asian American Creative Music

Listed by country: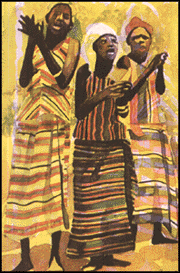 Tilghman
Africa
The Encyclopedia of African Music
African Jazz
African Music Archive
African Music Home Page
Motherland Music
Songs of the Abayudaya Jews of Uganda
Australia
Australian Folk Songs
Bolivia
Bolivian Anthems
Bolivian Music

Brazil
Brazil Online - Music
World-Wide Samba Home Page
Canada
Northern Journey Online - Canadian Folk Music Website
Rainbow Walker Music: A Native American/Canadian Music Site
Caribbean
Afro-Caribbean Music
Cuban Music & Musicians
CubaNet: Music
Celtic/Ireland
Contemporary Music Centre
Irish World Music Centre
Celtic Wave
Tayberry Music - Celtic Music and Folk Recordings
Thistle and Shamrock Stations List
China
Chinese Folk Dance Company (New York, NY)
Chinese Music
Croatia
Music from Croatia
France
French Music Database
Le Rap Francais
Manca - Musiques
Finland
Finnish Institute of Recorded Sound
Iceland
Icelandic Music Page
India
Bhangra Page
Indian Classical Music
Italy
Italian Music Homepage
Italian music page
Latin America
LANIC: Latin American Music Resources Online
Mundo Latino - Música Latina
Musica
Norway
Norwegian Music Information Centre
Russia
Online Future: Music under Soviet rule
Russian Music Page
Spain
WWW Spain - Art & Music
Turkey
Musikwissenschaftliches Classics of Traditional Turkish Art Music

Cultural Gallery