The Blake Digital Text Project
Nelson Hilton, University of Georgia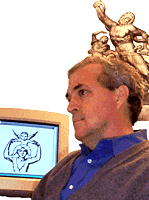 Nelson Hilton is Professor of English and Graduate Coordinator at the Department of English, University of Georgia. He is the author of Literal Imagination: Blake's Vision of Words (University of California Press, 1983) and Lexis Complexes: Literary Interventions (University of Georgia Press, 1995). He is striving at present to help integrate "Humanities Computing" into English studies at UGA.

Back to the article