From Cognitive Maps to Hypervideo: Supporting Flexible and Rich Learner-Centred Environments
Nuno Guimarães, University of Lisbon, Portugal
Teresa Chambel, University of Lisbon, Portugal
José Bidarra, Universidade Aberta, Lisbon, Portugal

Abstract
This paper discusses the creation of rich learning environments, based on the expression of knowledge structures through cognitive mapping tools and its integration with rich information spaces, namely based on hypervideo support. The paper introduces a background of cognitive and pedagogical or learning models that suggest the use of knowledge mapping tools and the support for different cognitive modes and learning styles. The power of video information, together with the exploration of non-linear access and navigation, is then presented. Experiences in both dimensions of the approach are presented.
1. Introduction
Current challenges in the educational settings are often related to changes in how the learning experience is delivered, in who is delivering the learning experience, and in the role of the learner as a member of a broader population. Radical changes have already taken place in the latter, and it is fair to say that new pedagogical approaches are needed to cope with the arrival of a new generation of potential students, those whom we can describe as the "play generation" rather than the "drill generation."
Digital technology is being increasingly used to create new learning artefacts. At the heart of this technology is the "systems" perspective, as proposed by Davenport (1997). Input and output devices serve as surrogate extensions of our senses, providing connectivity to the world. Computers and networks bear some correspondence to our brains and nervous systems. The learner's involvement becomes active and conversational, rather than passive, and it leads to the co-construction of meaning.
How should we integrate learning activities with hypermedia artefacts? What are the actual cognitive and affective strengths of hypermedia? How do we design for this medium? Much has been said about the potential for interactive learning that is sustained by the "right" design of hypermedia in systems such as the World Wide Web. Indeed, the human mind seems to work like the World Wide Web, in a dynamic, creative, fractal and unpredictable way. But when designers attempt to support the user, options are often unengaging and ineffective. An adequate use of the experiential and reflective modes (Norman, 1993) that should support such design efforts is not attained by the users/learners.
Once an author or designer abandons the notion of total control over the learning material and, instead, engages the audience in a process of co-construction, he discovers that a more fundamental question surfaces: can the learning material become organic, adaptive, and generative? Perhaps because mental schemes are so important for us, and so necessary for orderly interaction with others, people are very reluctant to change them. So, we argue that in the design of multimedia materials, the accommodation of different individual cognitive preferences becomes an important factor for the success of the learning environment.
The problem we want to address can be summarized as follows:
How do we integrate interaction processes, authoring approaches and rich elements of hypermedia information in order to improve the effectiveness of a learner centred educational environment?
As explained below, our proposal includes the creation of a flexible interaction environment, coupled with a cognitive mapping approach to allow authors to externalize and share knowledge structures, and flexible hypervideo mechanisms that integrate rich media with the former structures.
The UNIBASE project (Chambel et al., 1998, Bidarra et al., 2000), a background to the work presented here, aims to explore and develop the application of innovative hypermedia artefacts. This paper reflects the work carried out in the project.
2. Conceptual Framework
Cognition and learning theories play a fundamental role in the design of the proposed environment. The most relevant notions are the cognitive styles and modes, the structure of learning processes, the exploration of cognitive mapping tools, and the impact of rich media in the learning experience.
2.1 Cognitive Styles and Modes
Norman (1993) identifies two modes of cognition: experiential and reflective. The first relates to a state in which we perceive and react to events in an effortless way, while the latter relates to comparison and contrast, thought and decision making. These concepts can be associated with cognitive psychology's automatic and controlled processes. Brenda Laurel (1993) also describes two modes of interacting with a computer in a different, but similar way: experiential and productive. Experiential and reflective modes do not capture all the thought, nor are they completely independent, but seem to define the spectrum of our interaction with technological artefacts. Both modes are essential for human performance, but require very different technological support. Many tools fail by providing reflective support for experiential situations, or experiential support for reflective situations.
Along with differentiation in cognitive profiles, it has been suggested (Kolb, 1984) that every student has a mixture of four basic learning styles, namely: Reflector - learning best by reflective observation; Pragmatist - learning best by engaging in practical applications; Theorist - learning best by abstract conceptualization; Activist - learning best through activities and concrete experiences. This differentiation suggests a need for the flexible support of these styles, along with the possibility of effortless transition between them, in a group or individual learning environment.
Learning Process Phases
In addition to different cognitive profiles and learning styles, different phases for the learning process can be identified. The "classic" learner centred pedagogy model has three phases: initial conceptualisation of the subject and its domain; construction, where the learner actively engages with the subject, while relating to his or her own knowledge framework; and dialogue, where the learner expresses aspects of the emerging understanding and relates this to the understandings of fellow learners and tutors.
Cognitive Mapping
Cognitive mapping has been gaining ground as an approach and technique to support the understanding of complex information structures or cognitive processes. From management and social sciences processes (Eden, 1990) to education (Kommers & Lanzing, 1997, Zeiliger, 1995), the expression of cognitive maps provides a means to externalize and share the individual's cognitive structure on a given subject. In our context, a cognitive map is a bridge between the experiential activity of a learner and the reflective processes that we believe to be required for the learning to take place effectively.
2..2 Learning with Rich Media
The integration of audio-visual information with the learner's knowledge structure may facilitate retention and retrieval. Training learners "to transform complex visual images (i.e., to analyse, describe, categorise them) can provide an important link between visual and verbal storage and retrieval" (Kozma, 1986, p.16). In our environment, and given the availability of video-based course material, we aim at exploring the added value of this type of multimedia information.
One of video's greatest strengths is the power to generate attitudes and emotions as no other medium can. According to Anderson (1983, p.72): "It is an excellent tool for displaying affective information." The affective domain is concerned with the learner's reception and responses to the stimuli presented.

3. Our Approach
The above cognition and learning theories provide support for a framework and a set of requirements to approach multimedia design for educational purposes: (1) flexible access and structuring of knowledge and rich information, (2) flexible interaction with this knowledge and information, and (3) communication and interaction among participants in a learning experience. This framework is built according to the following design proposals:
To structure rich information and knowledge, we propose the integrated use of cognitive maps and hypervideo.
To support individual and collective interaction and manipulation of information and knowledge, we require the ability to navigate and change those structures.
To enable personal interaction and communication, we require sharing and co-construction of both information and knowledge structures.
Cognitive modes (Norman, 1983) are taken into account in the navigational support in the rich media environment, and in the support for cognitive structure elicitation, collectively done by learners and teachers in the Hyperscapes model. Due to the flexibility and variety of resources, the four learning styles are supported in the following ways:
Reflector: Learners were provided with appropriate exercises in course pages, and because a large proportion on the Web is asynchronous it caters naturally to the needs of reflective students.
Pragmatist: Practical exercises with a problem solving structure and a theoretical support were implemented with images and sound that contextualise the experience.
Theorist: As the course material was readily available at Universidade Aberta, the relevant theory support modules were easily converted and made available in course pages.
Activist: The Web naturally lends itself to active "discoveries" through hyperlinks, and the main assets are its multiple navigation possibilities, e-mail, message boards, chat, multimedia, videoconferencing and the highest-level of interactivity.
4. The Hyperscapes Learning Model
The Hyperscapes Model is both a mechanism to bring expressive power to authors and a tool to support learners in finding paths relevant to their own aims and needs. A key element in this learning environment is the explicit introduction of cognitive mapping support for the construction, visualization and navigation of complex hypermedia structures. The goal is to develop reference models that are meaningful organizations of information in our minds. This process is facilitated if we use, for example, meaningful sounds, pictures and graphics to express ideas. Visualization is an important concept in this process as learners attempt to (mind-) map the structure of knowledge they acquire (Zeiliger, 1995).
To support interaction and communication, a comprehensive framework must be included, taking into account the opportunities for interaction, both synchronous and asynchronous, as well as remote or co-located. In this context, the time-space matrix below summarizes the role of the different artefacts.
| | | |
| --- | --- | --- |
| Interaction | Same time | Different time |
| Same space | Enhanced classroom | Shared offline facilities - knowledge and hypermedia structures |
| Different space | Videoconference and chat | Shared online facilities - knowledge and hypermedia structures |
The Hyperscapes Environment
To meet these needs, we designed a comprehensive framework model for online and offline interaction, dealing with the fractal structuring of knowledge in learning processes supported by multimedia environments. We propose to create a new experience for the viewer with simple means. In the past, microworlds have been created to provide an entirely new framework for the learner to explore, but today the Web can already provide plenty of worlds with which to interact. According to Cognitive Flexibility Theory (Spiro & Jengh, 1990), learners are able to spontaneously restructure their knowledge in many ways as they chart their courses through the hypermedia material. Learners construct multimedia artefacts - knowledge and information hyperscapes (Bidarra & Guimarães, 1999) - initiated by the instructor and further developed and shared in an organic, adaptive and generative manner.

Mind mapping tools have been available for sometime now, but only recently do they support the creation of (hyper-) maps that can be converted to Web environments. In our environment, we have used a particular tool, Mind Manager, to build and externalize the knowledge structure embedded in different course materials. In Figure 1, we can see an example of a map built for a particular subject (Literary Studies). This map is the initial foundation for individual and group exploration, information generation and integration with the video material that is available on the subject.

(22KB; 1163x1042 pixels; Note: need to scroll to see the whole image)
Figure 1. Map developed with MindManagerTM, for the "Literary Studies" course material.
With a flexible interaction environment and the right tools for knowledge structuring, we can produce shared and co-constructed knowledge maps for any specific subject. These shared knowledge representations, as can be inferred from the picture above, provide a structured space, with high granularity, suited for integration with flexible hyperlinking and navigation facilities provided by hypervideo technologies.

5. The Role of Hypervideo
Video can greatly enhance the authenticity of a computer based learning environment. The need for authentic learning experiences is something for which constructivists have strongly argued (Boyle, 1997). However, for a system to allow learner reflection, it must have a compositional and representational medium that affords adding new representations while modifying and manipulating old ones, and it must perform comparisons (Norman, 1993). Reflection also requires the time and ability to elaborate upon and compare ideas. Thus, the medium must afford reflection time. In this sense, broadcast television cannot augment human reflection; it does not afford composition or the time to reflect. It is usually watched in an experiential mode. However, television and video could be a powerful tool for reflection if the user could select what is to be seen and control the pace of the material, and could go back and forth, stopping, making annotations, comparing its relation to other materials. Such a tool should also lead to more effective results if it were integrated with the knowledge structures built through the cognitive mapping approach adopted in the Hyperscapes model.
Effective reflection requires some structure and organization (Norman, 1993). Structuring and organizing information is the main issue in hypermedia. Hypervideo refers to the integration of video in truly hypermedia documents. True integration of video requires a more powerful hypermedia model that takes into account its spatial and temporal dimensions as well as the aesthetic and rhetorical aspects of integrating several media. The hypermedia model should also define the semantic structures and mechanisms for linking video, and find new concepts of navigational support (Chambel et al., 1999a).
The design rationale we adopted for the educational artefacts being developed, in the context of UNIBASE, is based on the notion that the integration of basic elements of information must capture the cognitive bias of the different materials and create added value through adequate bridges among those elements. These are mainly textbooks and videos, broadcasted on TV and available on tapes, in the current distance education system at Universidade Aberta. The materials only have a macro relation, as they cover the same subjects, but students don't have an easy way to interact, relate and study them when they want and at their own pace. A fundamental problem is the decoupling that exists between the two types of information, and the monolithic format of the video material that leads to a less effective exploitation of these sources. Integration increases effectiveness through mutual reinforcement of both textbook and video programs. For an adequate support of learning processes, integration with video must allow the learner to exercise the "natural" experiential cognitive attitude when watching video, so as to induce and support the reflection processes, and involve the user in such a way that he is led to "stop, think, and correlate" different types of information.

6. Hypervideo Support
Hypervideo mechanisms are the basic tools for the purposeful and directed integration of video information in learning environments (Chambel & Guimarães, 1999b, 2000a). In this context, we developed a model and some tools for hypervideo support on the Web (Chambel et al., 1999a), as extensions to HTML and existing Web tools. We are exploring new forms of integration and navigation of video in hypermedia, with a special emphasis on learning support, developing video annotation tools (Correia & Chambel, 1999), creating course material consistent with these concepts and using these tools. In the support of hypervideo documents authoring, we are using video processing techniques (Correia & Guimarães, 1996, Elmagarmid et al., 1997) to index video, and to help locate the anchors for the establishment of links. CutViewer was extended to generate hypervideo image indexes, exemplified in the simulations.

CutViewer: http://www.ergoprocesso.pt, also available through http://www.tucows.com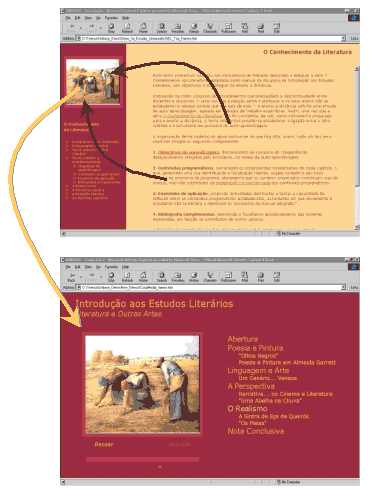 Figure 2. Text centred and video centred hypervideo Web pages for "Literary Studies".
The Powerpoint simulations exemplify video integration and navigation on hypervideo documents, as demonstrated (Chambel 2000b). This hyperdocument integrates the textbook and the 15 videos (15-20 minutes each) for the "Literary Studies" subject at Universidade Aberta. In the first example, video is integrated in text centred pages as an illustration of the concepts being explained. Small segments of video are played when these hypervideo links are followed. The user has an augmented experience of text reading. The second example is a video centred page. The whole video can be played from this page. Indexes, synchronized with the video, make the video structure explicit, provide for user orientation and can be used to navigate the video. Different types of indexes act as different views or maps of the video. The user has an augmented experience of video watching. The third example points out different types of links: from text to video, from video to text and from video to video, at different points in time and space.
Hypervideo provides the mechanisms to structure, navigate and interact with rich multimedia information spaces. Learners can also create their own versions of hypervideo documents, or expand upon the original ones, and share them with their colleagues and teachers.

Examples 1 & 2 (PowerPoint file, 1.8MB) available for download.

Examples 3 (PowerPoint file, 1.2MB) available for download.
7. Experience and Feedback
When applying hypervideo, or even simple video, we assumed that technologies like interactive multimedia help students form rich representations of learning events and promote deeper understandings. However, this does not happen by simply adding more information and more (rich) media. We also assumed that students learn in very different ways and we expected them to be able to recognize relevant domain information and be able to process it at some depth.
A group of 16 students, attending a master's programme on Educational Multimedia, was given the task of creating fractal hyperscapes, i.e. mapping and developing of layered Web structures reflecting their interaction with knowledge, and with instructors and colleagues. The aim was to find out how the learning process evolves when students work together as architects of conceptual hyperspaces. The emphasis was put on the levels of engagement and motivation attained and the final quality of the hyperscapes material. Students were given a basic conceptual map with the main themes of the course, which they had to explore and develop further, both in class and online (Figure 3). They were encouraged to proceed from (non-linear) thinking to (non-linear) authoring of hyperscapes in a process with four phases: preparation, construction, interaction and presentation.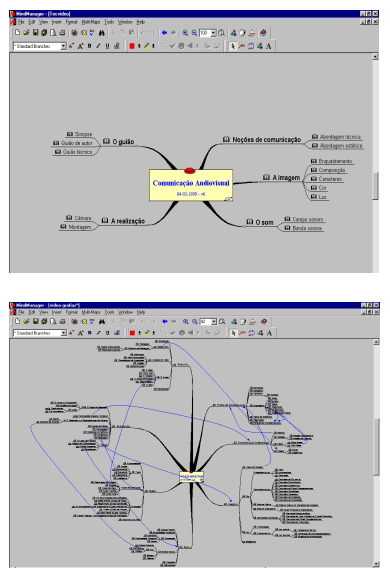 Figure 3. Initial knowledge map given to the students. Final map co-constructed by students and teacher.
Our experimental goals were:
To examine the use of hypermedia and communication tools in their work;
To investigate the effectiveness of the hypermedia/Web environment
To find ways of improving the usability of hypermedia learning devices.
Data on the interactions was gathered by means of direct observation, video recordings and screen capture. These were later interpreted and checked against the evaluation of individual portfolios. Final assessment of the students was accomplished via work portfolios.

In our experiments, learners used their natural language to argue, question, and make connections to units of study and to their own experience. In groups, they explained the course of the learned events and worked out knowledge maps. Some learners also displayed their understandings by means other than words. They imported new examples, produced sounds, images and short videos. Finally, they represented the themes as a global hypermedia production on the World Wide Web.

Feedback obtained from the use of hypervideo documents and learners' interviews was very encouraging as reported in the conclusions.

An external link to the learners' global hypermedia production on the World Wide Web. (Portuguese site with several links in English.)

8. Conclusions
Our approach in building an effective learner-centred system was to collect descriptive, qualitative information. The gathered data was to be later interpreted and integrated into the design process. By examining the interaction with the hypermedia tools and the interaction within the surrounding social system, we were able to verify the efficiency and effectiveness of the pedagogical framework and the use of cognitive maps and hypervideo.
Our findings suggest that:
Students appreciated the freedom to access and integrate different resources, to build new materials as hypermedia productions, and to respond to challenges, creating new situations and constructing their own knowledge maps.
Constructivist activities were very motivating to the majority of students and the tools were easily mastered. Precise focus on the objectives was attained by workgroups without wasting time "playing around" with the software.
The ability to integrate video in hyperdocuments was also an important feature, as it enabled learners to create rich representations and promote deeper understandings. It improved both text and video understanding, due to the contextualized explanations and illustrations made possible by the integration of both materials. Important relations with video information could be captured.
Students were more motivated to watch the videos, as the process became more flexible and engaging. It was easier to search for information and to capture the videos' messages, through the different maps available. Video course material, as rich as it is, is better used in a reflective mode if presented in such a way that the content or knowledge structure is made explicit. Different learning styles were supported through different interaction and navigation choices.
Guidance on the thematic criss-crossing of the subject domain is important for the construction of concept maps. Students get easily lost if there is no tutor or expert support, no matter what access they have to the knowledge resources.
The results obtained suggest that the adoption of cognitive maps and hypervideo in our pedagogical framework is a powerful way to support the structuring of and interaction with rich knowledge and information spaces, allowing for more effective, flexible, rich and participatory learner-centred environments. This encourages further research work in this direction.
9. References

Anderson, R. H. (1983). Selecting and Developing Media for Instruction, New York: Van Nostrand Reinhold Company.
Azarmsa, R. (1996). Multimedia: Interactive Video Production, New York: Wadsworth.
Bidarra, J., and Guimarães, N. (1999). A Case for Learning Sites with Video Bytes: The Hyperscapes Experience. Proceedings Online Educa '99 – Berlin, 24-26 November.
Bidarra, J., Chambel, J., and Guimarães, N. (2000), Enhancing Learner-Centred Design of Hypermedia Artefacts Through Cognitive and Affective Indicators, In Proceedings of EdMedia' 2000 - World Conference on Educational Multimedia, Hypermedia & Telecommunications, AACE Conferences, Montreal, Quebec, Canada, June.
Boyle, Tom  (1997). Design for Multimedia Learning. Prentice Hall Europe.
Chambel, T., Bidarra, J. and Guimarães, N. (1998), Multimedia Artefacts That Help Us Learn: Perspectives of the UNIBASE Project on Distance Learning, Workshop on Multimedia and Educational Practice, ACM Multimedia'98, Bristol, UK, September.
Chambel, T., Correia, N. and Guimarães, N. (1999a). Towards Hypervideo on the Web, In Proceedings of IMSA'99, Third IASTED International Conference on Internet and Multimedia Systems and Applications, Nassau, Grand Bahamas, October.
Chambel, T., and Guimarães, N. (1999b). The Role of Hypervideo in Learning Environments (poster), In Proceedings of WebNet' 99 - World Conference on the WWW, Internet, & Intranet, AACE Conferences, Honolulu, Hawaii, USA, October.
Chambel, T., and Guimarães, N. (2000a). Aprender com Vídeo em Hipermédia, In Proceedings of CoopMedia' 2000, Workshop de Sistemas Multimédia Cooperativos e Distribuídos, Coimbra, Portugal, Junho. (in portuguese)
Chambel, T. (2000b). Educational Applications of Hypervideo (demo), In Proceedings of  EdMedia' 2000 - World Conference on Educational Multimedia, Hypermedia & Telecommunications, AACE Conferences. Montreal, Quebec, Canada, June.
Correia, N., and Guimarães, N.(1996). Components for Video Processing Applications, Proceedings of the 4th Eurographics Workshop on Multimedia, Multimedia on the Net, May 1996, Rostock, Germany.
Correia, N., and Chambel, T. (1999). Active Video Watching Using Annotation, In Proceedings of ACM Multimedia'99, Orlando, Florida, USA, November.
Davenport, Glorianna (1997). Encounters in DreamWorld: A Work in Progress. Retrieved from the WWW: http://ic.www.media.mit.edu/CR/CR.html
Eden, C., and Jim Radford, J. (1990). Tackling Strategic Problems : the Role of Group Decision Support, SAGE.
Elmagarmid,A., Jiang, H., Helal, A., Jishi, A., & Ahmed, M. (1997). Video Database Systems: Issues, Products and Applications, Kluwer Academic Publishers.
Kolb, D.A. (1984). Experiential Learning: Experience as the Source of Learning and Development. Prentice Hall: Englewood Cliffs.
Kommers, P., and Lanzing, J. (1997). Students' Concept Mapping for Hypermedia Design: Navigation Through World Wide Web (WWW) Space and Self-Assessment. Journal of Interactive Learning Research, 8(3/4), 421-455.
Kozma, R.B. (1986). Implications of Instructional Psychology for the Design of Educational Television, Education Communication and Technology Journal, 34, (1), 11‑19.
Laurel, Brenda (1993). Computers as Theatre, Addison-Wesley.
Norman, Donald (1993). Things that Make Us Smart. Addison Wesley.
Spiro, R.J., Jengh, J. (1990). Cognitive Flexibility and Hypertext: Theory and Technology for the Non-linear and Multidimensional Traversal of Complex Subject Matter. D. Nix & R. Spiro (eds.), Cognition, Education and Multimedia. Erlbaum, Hillsdale, NJ.
Zeiliger, R. (1995). Concept-Map Based Navigation in Educational Hypermedia: A Case Study. URL: .http://www.irpeacs.fr/~zeiliger/ARTEM96.htm
10. Acknowledgements
This research is partially funded by FCT (Fundação para a Ciência e a Tecnologia) in the context of the UNIBASE Project.

| | |
| --- | --- |
| IMEJ multimedia team member assigned to this paper | Yue-Ling Wong |